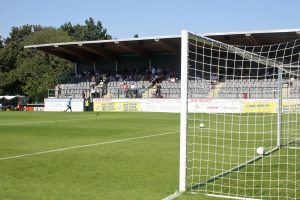 Chairman Jim Parmenter gives an update after the Government announced this morning that they have paused their plans to bring crowds back to 'elite' football from October 1 after a rise in Covid-19 cases.
Whites are due to start their National League campaign against Notts County at Crabble on Saturday, October 3.
A surprised and disappointed Chairman said: "While the government have communicated with the nation, there has been no direct engagement with football clubs by them, the FA or National League – we still do not know what the plans are.
"The board have been working hard to ensure the club stays viable, although this is another setback to our efforts and inevitably this will involve further consultation with our staff.
"Supporters can be assured that we are doing everything we can to ensure the survival of the club and we are taking every possible step to ensure we are ready for when fans are able to come back to the ground.
"At present , we do not know what the plans for the League season are, but we believe that the most likely outcome is a delay to the start of the fixtures.
"Unless funding is provided by the government, football behind closed doors is not sustainable at our level.
"We will oppose any attempt to start the season behind closed doors."
As previously communicated, season ticket payments are fully protected and full refunds will be given, so fans do not need to worry.
The same goes for shirt purchases, which will be delivered as planned and available within the next couple of weeks, subject to our kit supplier not being effected by lockdown closure or delays.