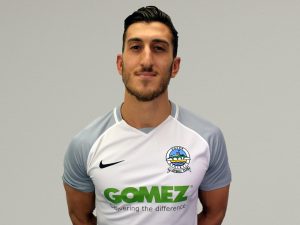 Giancarlo Gallifuoco became Dover's ninth new summing signing after the Australian signed a one-year-deal in July.
The 23-year-old defender is no stranger to the National League after spending the 2016/2017 season with Torquay United.
He made 35 appearances for the Devon side in that time, including both games against Dover. He also scored three goals.
Born in Sydney, Gallifuoco joined Torquay last year after a season with A-League side Melbourne Victory.
Gallifuoco first came to England to join Tottenham when he was 18 in 2012 and he spent two years with them before leaving for Swansea City.
He spent a year in Wales before heading back home to play in the A-League.
Able to play in central defence, central midfield and at right-back, Gallifuoco has represented Australia at Under-17, Under-20 and Under-23 levels.