As a club, we are incredibly proud of what our Academy has achieved so far this season.
They have reached the Third Round of the FA Youth Cup and will take on Premier League Brighton & Hove Albion at the American Express Elite Football Performance Centre on December 14th.
Manager Mike Sandmann's squad has won all six games they've played to reach this stage of the competition and is the only non-league academy left in it.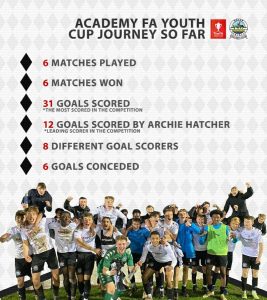 But what has been the key to the success of the talented squad?
Well, we caught up with Academy captain Bleu Landau and the leading scorer in the competition with 12 goals, Archie Hatcher, to find out and also find more out about themselves.
Bleu Landau
Archie Hatcher
Watch Bleu and Archie go head-to-head in a lighthearted Q&A