The club would like to issue the following statement. 
SUPPORTER BEHAVIOUR
The vocal support for the team this season has been loud and proud and greatly appreciated by Mitch and the team. However, we are receiving a growing number of complaints from supporters about the language and behaviour of a very small minority of younger supporters. This is having a detrimental effect on sponsorship and crowd numbers. The Club has been monitoring the situation and verbal warnings have been issued, but these appear to be having no effect.
The club's policy on the matter is attached to this statement –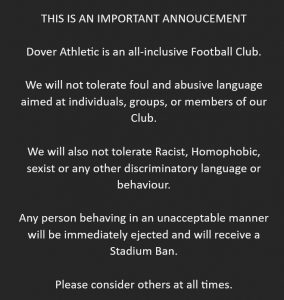 Whilst vocal support is and will always be greatly appreciated, abuse of individuals and excessive foul language will not be tolerated. There will be no further verbal warnings issued and offenders will be removed from the stadium receive a ban and any season tickets will be rescinded with no refund. If Police assistance in this matter is required, it will be called upon.
Please continue to support the team but always consider others.