It's time for Warren 'Pep' Dyer to put down the book he's been studying 'An Ode to Four Four Two' Football's Simplest and Finest Formation because the day of the big kick-off has arrived.
Dyer is the manager of the two supporters team that will go head-to-head against Andy Hessenthaler and his Invitational XI in the fundraising match at Crabble this afternoon.
One of Dyer's teams will play in the first half before the other plays in the second against some of the greatest names to have played for the club.
But is the book Dyer has been reading, which examines how coaches settled on the 4-4-2 formation to build iconic teams which would dominate both domestically and in Europe, the key to his tactics?
Well, if Dyer struggles to remember what's his read in the pressure cooker environment of sitting in the visitors' dugout, he could ask one of his players to give him a hint.
John McNicoll is the author of the book and the Lydden resident and Dover fan is playing.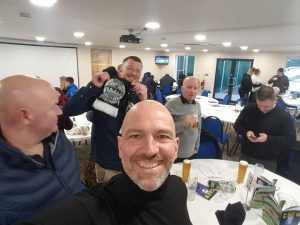 Hessenthaler, who will be the player/manager of his side, played down the threat of Dyer, (pictured above) and his inside knowledge.
"He (Dyer) could have read the book from cover to cover for years, but a book is not going to be out there where it matters – on the pitch," our manager said with an icy cold stare.
"Let's be honest, we mean business as our reputations are on the line today.
"It's time for that so-called Pep and his players to let their football do the talking.
"All jokes aside, we are looking forward to it and we hope we get a great crowd in the ground for the occasion.
"It's a fantastic initiative and one we hope gets really well supported.
"We are looking forward to seeing you all there."
As for Dyer, well, he wasn't available for media duties – he was studying his book!!
The match kicks off at 1pm and admission by way of a donation.
The Centre Spot will also be open from 11am and a playing shirt signed by the Hess XI will be raffled on the day.
Hessenthaler's squad includes:
Jon Wallis, Lee Browning, Tom Wynter, Adam Birchall, Frannie Collin, Matt Carruthers, Nathan Elder, James Strouts, Craig Stone, Lee Shearer, Sammy Moore, Connor Essam, Nicky Southall, and James Rogers.
Dyer's squads are:
First half: Dan Fletcher (GK), Andy Rolfe, Jack Arrowsmith, Bradley Bough, Nathan Charlton, Michael Pott, Jamie Parsons, John Matthews, Frazer Duncan, Jason Scoble, Nich Aspendos, Nick Aspendos, Muj Aspendos.
Second half: Andrew Belson (GK), John McNicoll, Tom Mears, Ian Sullivan, Brad Shrewsbury, Charlie Brown, Nick Elms, Jamie Parsons, Brendan Ulyatt, Jay Parks, Nich Aspendos, Nick Aspendos, Muj Aspendos.