Dover Athletic is delighted to announce Be Wise Gas & Plumbing Services as our official sleeve sponsor for the 2021/22 season.
Their logo will be seen on the left sleeve of our home and away shirts and those of the goalkeepers.
Be Wise Gas & Plumbing Services Director and huge Dover Athletic fan, Jamie Parsons, said he was delighted to get the opportunity to continue his support of the club in a new way.
"I am thrilled, to be honest – I've had a perimeter board at Crabble for three seasons now and that has given the business great exposure.
"I was looking for a new opportunity to continue supporting the club and Richard (Sponsor Relations Manager Richard Harvey) suggested becoming the sleeve sponsor.
"To see our logo on the shirts is unbelievable and I am delighted with how it looks.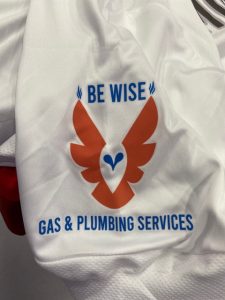 "I would certainly recommend other local businesses have a look at what's on offer at the club because we at Be Wise are thrilled to be partnering with Dover Athletic and we will be supporting the club every step of the way."
To find out more about the fantastic range of services provided by Jamie and his company, please visit Be Wise Gas & Plumbing Services