Whites add Wyscout to its armoury courtesy of the Supporters Club.
This week the football club received the welcomed news that the DASC will purchase the scouting tool Wyscout for the coming season. For anyone not familiar with the product, it is the worlds largest football library of video and data. Every football club in the world that films their match are obliged to provide the footage for teams to run analysis over. It is an essential tool at this level for a club with little to no scouting network. It can help scout players and opposition data as well as reviewing your own performances.
They offer:
Worldwide coverage, play by play data on more than 600 competitions globally, as no one else in the market.
A detailed analysis on 2.000 events per match delivered by our experts.
Millions of plays, from the Big Five to the most promising youth tournaments all over the world
We have a team of full-time video ana­lysts who work exclu­sive­ly with Wyscout, so that we're not wast­ing trav­el time, air­fares, hotels. We can see a lot of good or bad attrib­ut­es in the play­ers from the Wyscout footage' – John Marshall, Head of Recruitment, Wolverhampton Wanderers.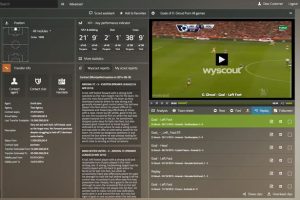 Kirsty Noble from DASC said 'The Supporters Club is delighted to purchase the Wyscout product, to help Mitch Brundle prepare the team in the best way possible. There is much more the Supporters Club can do, but we need more members, to raise more funds, in order to make more donations. Please support the Football Club by becoming a member of the Supporters Club. We are speaking with Mr Parmenter, Chairman of Dover Athletic FC, about further donations, but we can only do this with the support of our fans.
There will be a presentation of a cheque in the Centre Spot at 1.15pm. This will be presented by the Supporters Club to both the Chairman, Jim Parmenter and manager, Mitch Brundle.
There will be a fund raising bucket in the Centre Spot on Saturday to help replenish Supporters' Club funds, there will be membership forms available to collect. Alternatively, you can download a membership form from the top of the Supporters Club website which is www.dafcsc.co.uk.
To see the latest events and travel information you can follow us on Facebook @DoverAthleticSC, Instagram @dafc_supportersclub, Twitter @DAFCClub or @DASC_Coaches.
@DoverAthleticSC – https://www.facebook.com/DoverAthleticSC
@dafc_supportersclub – https://www.instagram.com/dafc_supportersclub/
@DAFCClub – https://twitter.com/DAFCClub
@DASC_Coaches –  https://twitter.com/DASC_Coaches